DIGITAL METAL®
Real metal in digital printing – from lot size of 1
KURZ DIGITAL METAL®
True metal digital decoration from copy 1
DIGITAL METAL® is the perfect digital concept for metallic decoration in print finishing. Our stamping foils with elegant, real metal are now available for digital printing for the first time – no set-up times, no tools, just completely new design options.
DIGITAL METAL® creates individual motifs or customizations using the loveliest metallization. Our DIGITAL METAL® foil provides highest gloss and sharp-edged motifs, and is easy to process. Foil transfer is 100 % digital and can be overprinted digitally or conventionally.
Tamper evidence by means of a transparent VOID label.
Laser-numbered self-adhesive security label which self-destructs during any detachment attempt.
DM-JETLINER®
Digital inline metallization on paper and label materials
DM-JETLINER® lets you transfer metallization effects onto paper and label materials during digital printing. The transfer process can be integrated seamlessly inline into your digital printing machine — upstream from the digital color printing. Once the foil is applied with a UV-curing adhesive to the unprinted substrate, the PET carrier is removed, and the substrate can be overprinted within the printing machine.
DM-LUXLINER®
Digital metallization on paper and cardboard stock
The DM-LUXLINER® allows a digital transfer of metallization onto paper and cardboard stock. The transfer process is made upstream of the digital color printing. The designs to be metallized are first printed digitally; then, the DIGITAL METAL® foil is transferred by the DM-LUXLINER® and the PET carrier is removed. An overprinting in 4 colors with very accurate registration is possible using suitable digital printing presses.
DM-JETLINER®
Can be integrated into production chain
Follows production speed of the digital printing press
Foil, adhesive and enhancement module from one source
Speed to market
Late stage customization
Custom-made hologram foils available (tickets, etc.)
Foil is overprintable (imitate/replace offset coldfoil)
Consignment stock of foil/pay per stamp model
Automatic foil reordering
DM-JETLINER® Specifications
Length/width/height:
2.5 m/1.5 m/1.8m
Stamping speed: mechanical speed adjustable to 2,400 sheets/h (B2 format)
Heat output: at 30 m/min: approx. 6 kW

Stamping temperature: 40 °C – 220 °C (IR heating system)

Electrical requirements: 400 V, 50/60 Hz, 3 phases with N, P, E, 32 A fuse, 13 kW

Compressed air: max. 6.5 bar (oil-free), hose size Ø = 10 mm, 300 l/min

Foil width: 550 mm

Foil core: 3″

Paper weights: 120 g/m² – 350 g/m²

Paper formats: min. 320 x 460 mm, max. 560 x 750 mm

Optional: palette feed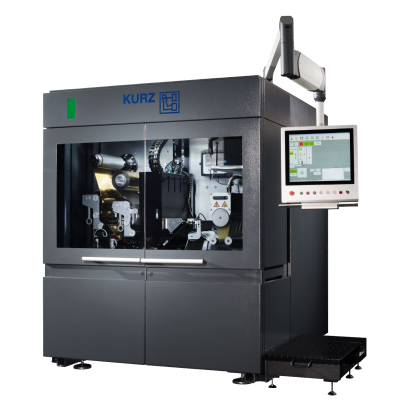 DM-LUXLINER®
Very easy to set up
Good results as of the first sheet
Up to 2,400 B2 sheets/hour (depending on print and substrate)
Foil and machine from one source
Custom-made hologram foils available (tickets, etc.)
Foil is overprintable (imitate/replace offset coldfoil)
Consignment stock of foil/pay-per-stamp model
Automatic foil reordering
DM-LUXLINER® Specifications
Length/width/height:
2.5 m/1.5 m/1.8m
Stamping speed: mechanical speed adjustable to 2,400 sheets/h (B2 format)
Heat output at 30 m/min: approx. 6 kW
Stamping temperature: 40 °C – 220 °C (IR heating system)
Electrical requirements: 400 V, 50/60 Hz, 3 phases with N, P, E, 32 A fuse, 13 kW
Compressed air: max. 6.5 bar (oil-free), hose size Ø = 10 mm, 300 l/min
Foil width: 550 mm
Foil core: 3″
Paper weights: 120 g/m² – 350 g/m²
Paper formats: min. 320 x 460 mm, max. 560 x 750 mm
Optional: palette feed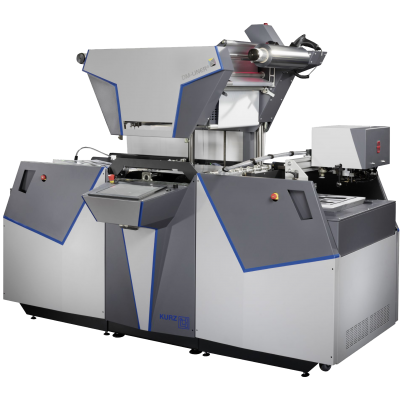 Apply Brand Enhancement to Your Products