COLD FOIL TRANSFER
Cold foil technology can be flexibly integrated into any printing process. The cold foil is simply applied as a "fifth color" to the print image. This opens up many new design possibilities.
COLD FOIL TRANSFER
The process of cold foil transfer involves applying UV-curable adhesive onto the image area without the need of using dies. After the foil has been in contact with the specific area, the adhesive is cured by UV light and then the carrier film is removed.
Cold foil can be flexibly integrated into any printing process as the cold foil is simply applied as a "fifth colour" to the print image. Overprinting offers free choice of colours. The base colour is usually silver. The cold foil can then be overprinted with any process colours or other colours. A variety of new metallic colour tones can also be created in this manner.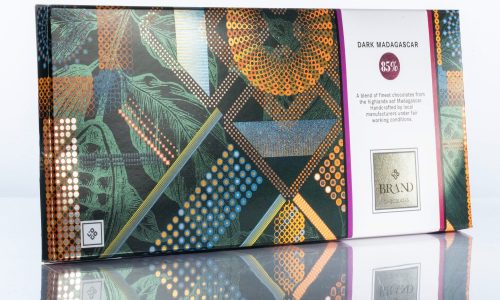 Expand your design scope with Cold Foiling
Flexibility when creating designs
High register accuracy
Very fine elements, negative lettering, rasters and large areas
Metallic half-tone effects
Optimal foil-to-print register
The substrate structure is retained, e.g. a linen effect texture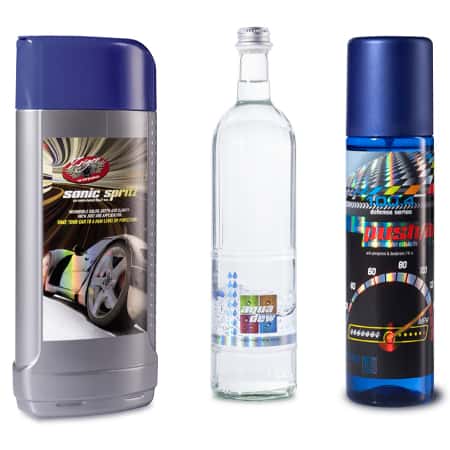 APPLICATION MACHINES
DISTORUN® – Independent module for labeling machines.
DISTORUN® is a unique module for the processing of single images and endless decors in cold foiling transfer. Cold foil single images can be accurately positioned. The section between two images can now be used for efficient foil usage.
A print mark reader notes the positions of the print marks. Recording the track speed and the print mark positions is part of the module and is fitted onto the printing press. DISTORUN® operates separately and is not affected by the controls of the printing press.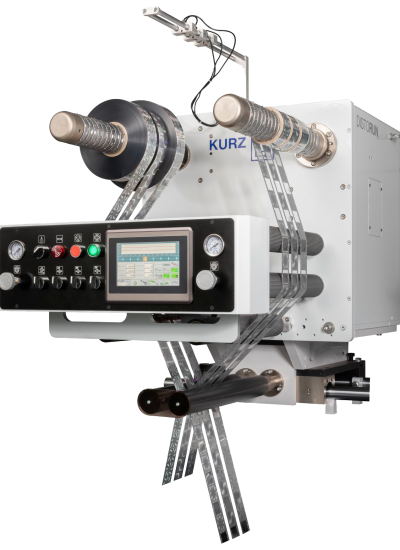 THE COLDFOIL MODULE
DISTORUN® has been developed and designed with modern servo control technology. A specially-designed software program allows for individual frame positioning and efficient use of foil.
DISTORUN® is placed on the rail system of the printing machine and the track speed of the printed substrate is recorded by a separate rotary encoder.
General Features
Processing of cold foil single images and endless decors.
No need for any modification of the printing machine.
Synchronized with the printing machine.
Rail system makes possible different positions to print unit.
Foil tension control on unwind and rewind.
Foil can be reused and remain true to register.
Available in 330 mm, 420 mm and 520 mm, with one, two and three foil stripes.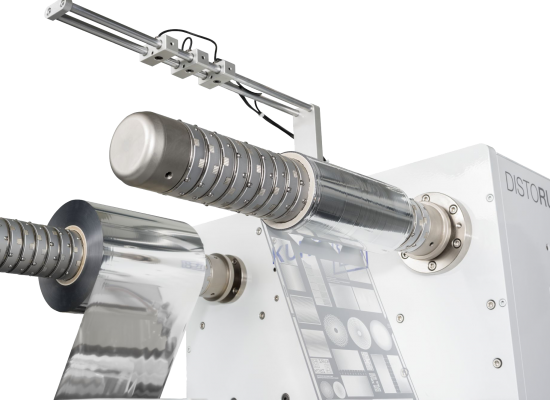 Specifications – 330 mm model with 3 foil tracks
Max. working speed (Synchronized with the printing unit) : ≤ 80 m / min

Accuracy of positioning image (Depends on the distance between two images) : ≤ 0.30 mm

Min. cold foil width: 30 mm

Max. cold foil width: 330 mm

Rewind / unwind maximum diameter: 350 mm (3″ core)

Max. number of foil tracks: 3

Electrical requirements: 3 x 400V AC, 50/60Hz, 6kW

Width: 720 mm

Depth: 1400 mm

Height: 650 mm

Weight: 380 kg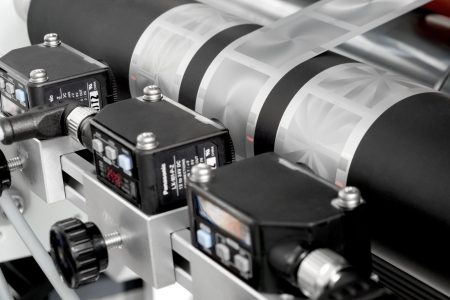 Cold Foil Transfer Your Products